Chord Company C-Line Stereo RCA Cable - The Chord Company C line is an original Chord Company design with a unique conductor configuration inspired by our flagship Sarum Tuned ARAY interconnects. Like all Chord interconnects, the C-line has been designed to protect the precious audio signal from the high levels of high frequency interference filling most modern houses. The C-line will produce a cleaner, more detailed sound than other, more conventional interconnects.

C-line is part of an award winning range of analogue and digital connections, including USB and streaming cables, HDMI, power and speaker cables - all designed and built in the UK to achieve the very best sound and picture from your hi-fi or AV system.
ARAY conductor geometry, multi-strand oxygen free copper signal and return conductors. High density overwrapped foil shielding, reduces signal loss caused by high frequency interference.

Unique RCA plug gold-plating process improves signal transfer across audio frequencies. Over moulded plug surround provides high reliability connection for best performance. Available in 1 metre and 0.5 metre lengths.

The Chord C-line is designed to work with all line level components, CD players, streaming devices, DVD players, home theatre amplifiers, tuners, phono stages and pre to power amplifier connections. This cable is not designed for use with RCA equipped turntables.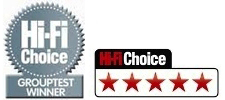 Pseudo-balanced Oxygen free copper conductors
ARAY technology
Unique direct gold-plating technology
Fully floating high density shielding
Ultra reliable over-moulded strain relief
Available RCA to RCA in 1m and 0.5m lengths